Dean Adams
An exceptionally accomplished guitarist and vocalist, with Fellowships from the London College of Music in both, Guitar and Vocal Performance, Dean creates adrenaline and electrifying energy on stage, championing raw sounds and intricate walls of guitar thunder.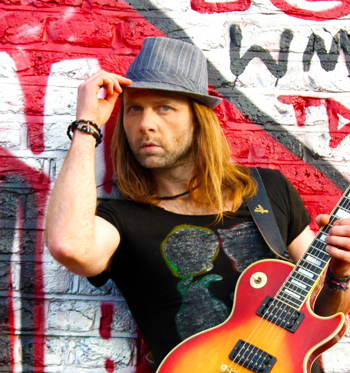 In my words… I love listening to great singers. I've been most inspired by Sebastian Bach's powerful yet effortless vocals. It's almost unbelievable how he can sing with so much strength while also being able to produce such innocent and gentle sounds. I also like Robert Plant's deep-felt lamenting style when he's telling stories. More typical for blues, David Coverdale has a unique, deep, full-bodied sound across his whole range. And last but not least, there is Freddy Mercury: His voice full of variation and expressive colours, it's pretty much out of this world. I'm also a big fan of Miljenko Matijevic from Steelheart.
What are your musical influences?
Speaking of bands, well, one of the first bands I got into was Deep Purple. My cousin gave me a tape with the Perfect Strangers album. It was actually a really bad recording, but I kept listening to it, and then got into all of the Purple stuff. Since then, I have been intrigued by Lord's Hammond organ improvisations, which fused blues with classical ideas, the rock distortion and the warm sound emanating from the Lesley cabinets. I was also very much inspired by the transcendental sounds of The Doors. The long improvised tracks, which we used to listen to all night long, are still reverberating inside me somewhere. These were probably the earliest influences that made me want to get into music and find my path in it.
How did you start your musical career?
My musical career started at age 10, when I built my first guitar – from curtain rails, nails and plastic bags! I've most likely been annoying neighbours ever since. Throughout my teens, I kindled a love for crazy sounds, vibrations and volume that has stayed with me ever since.
What are your songs about?
The songs deal with the angst of life! And then, of course, other important topics such as girls, money, love and death… I try to take on different characters that are deep within all of us. Drowning, for instance, describes how you feel when you're drowning in misery whilst trying to keep going, doing all the stuff you need to do to survive, and yet no matter how much you do, you never reach the freedom you're dreaming of. The song is very powerful. It's about always giving everything you've got.
What do you hope your music can convey?
I think best remedy to the nihilist uncertainty in life is the immersion in a lot of noise. My songs are like a tank full of energy and take you on a roller coaster ride: Fast guitar solos and daring vocals unleash a waterfall of strong emotions onto whoever dares to step inside the trajectory of the sound. The music brings you closer to the limits of your existence and lets you step into a unique dimension of experience.
What guitars do you play with?
I use the Ibanez 540 PII for day-to-day playing. On the recordings you mainly hear my Les Paul Custom. I often play a Taylor acoustic as well as a George Benson signature semi acoustic when I'm feeling jazzy.